Choose Showtime to Buy Tickets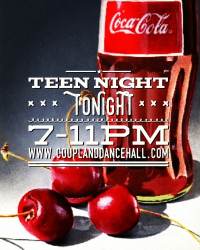 TEEN Night
$10 at the door.
Ages: All Ages
All Event Showtimes
January 5, 2018 9:00 pm
- 12:00 am
Popular Coupland Teen Night. DJ provides Country Dance Music and requested Line Dance Numbers. Teens (ages 14-19) from several,surrounding communities gather in a safe, non alcohol service dancehall environment for good old fashioned fun. Coupland Teen night is supervised by the Coupland staff. No knives, drugs, dip (snuff, Copenhagen) tobacco of any kind allowed. Cover charge is $10pp. Coupland offers a limited teen menu from the kitchen. There is NO RE-ENTRY. Once teens enter the dancehall, they can not go outside for any reason and return to the dancehall.

Parents may dine in the restaurant during Teen night.